Deep-south safari
Whether in a 4x4, on a motorbike or on a quad, this is a great place for desert safaris in motor vehicles or on mountain bikes.


4x4 vehicles
It takes five to six days to discover the Deep South, its valleys and its deserts, in a 4x4 vehicle. Tafilalet,
the ideal starting point, is an immense palm grove irrigated by the Rhesis and Ziz oueds, surrounded by desert. To start your adventure, you can choose the town of Erfoud, to the north of Tafilalet. Heading south-east,
you will take a road which, over about 50 kilometres, will quickly take on the appearance of a track leading
to the small village of Merzouga and its small rammed-earth flat-roof houses. This village is at the foot
of the Chebbi erg, the only dune field, or erg, in the Moroccan Sahara.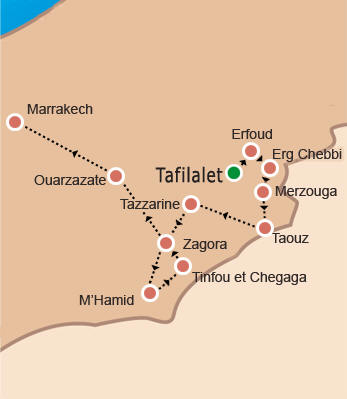 In the footsteps of the Paris-Dakar
It is possible to continue on to Taouz. Another stopover not to be missed
on your trip: Zagora, in the fertile Draa valley. To reach it, the vehicles will pass through the beautiful Tazzarine oasis, to the east of Tafilalet. From there, they will head south towards Zagora, which is also a departure point for many hikes, on foot or on camel. From Zagora, it is the start of a magnificent
off-road adventure in the direction of MíHamid, located close to the valley's southern extremity. Along the way, the Tinfou dunes and, above all, those
of Chegaga (over 40 kilometres) are particularly appreciated. For the more adventurous, you can drive over the entire length of the Draa valley to reach the valley of Dades and Ouarzazate to the north. From there, across the High Atlas, you will find the atmosphere of the lively and welcoming town
of Marrakech.

Motorbike, quad and buggy
You will find dedicated motorbike circuits in the Dades valley and in the Merzouga, Tinfou and Chegaga dune areas. This type of motor vehicle
is perfectly suited to the kasbah route and is able, when necessary, to leave the road to discover less accessible beauties.

To remember
Dunes, oasis and rock desert: the Deep South is a magnificent area in which to express your thirst for sport and discovery.