The full tour of Morocco.
This long circuit through the country, its cultures and landscapes, is one of the most fulfilling ways to discover the Kingdom.
Departure on the Atlantic coast

On the Tangier hills.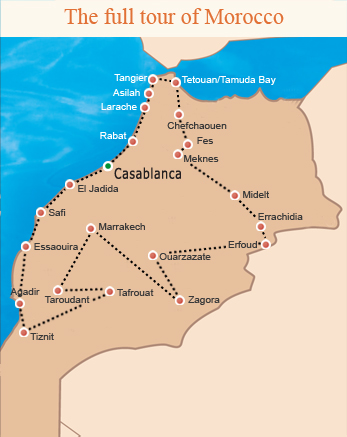 It takes two weeks to discover all the sites that await you.
Your journey could start in Casablanca, a metropolis of contrasts characterised by a harmonious architectural mix that combines modern buildings with the old medina… Following the sea front to the north, you will arrive in Rabat, where modernism and tradition also coexist. On the way to the country's northernmost point, on the way to Tangiers, make a side trip to Larache, with its magnificent beaches and grilled fish. 5 km north-east, the site of Lixus presents the ruins
of this ancient Roman market town, with its theatre, villas and temples. From Tetouan, whose pristine whiteness explodes in the sunlight, you will return towards the south, passing through Chefchaouen with its blue alleyways and imperial Fes. On the way to Meknes, make a stop in Moulay Idriss to visit the mausoleum of the founder of the first Arabic dynasty to reign over the country, the Idrissides. Close by, Volubilis is an astonishing site dating back to the Roman empire.
In the centre of the country The full tour of Morocco.
In Midelt, you are at the edge of the Ziz valley, which you will follow all the
way to Erfoud, with its characteristic right-angled street plan. To get there,
you must cross Errachidia on the way. From Erfoud, the route takes you
to Ouarzazate via the Dades valley. On your way, you will go through the valley of the Roses, the undisputed home of the queen of flowers, used to make
rose water, which is much appreciated for its many virtues. From there,
you will head back northwards towards the Atlantic.

To the south and return.
A stop at Marrakech is unavoidable, the ochre city that gave the country its name. You will then go through Taroudant, Tafrouat
and Tiznit. Lastly from Agadir to Essaouira, passing through Safi and El Jadida, you will have time to take advantage of these desireable seaside resorts, before gently returning to your point of departure: Casablanca.