The road of the kasbahs.
Leave from Ouarzazate and return there after having discovered a circuit lined with hundreds of kasbahs. These proud monuments
to Berber art are unique in the world.

Leaving from Ouarzazate Ait Ben Haddou, Ouarzazate.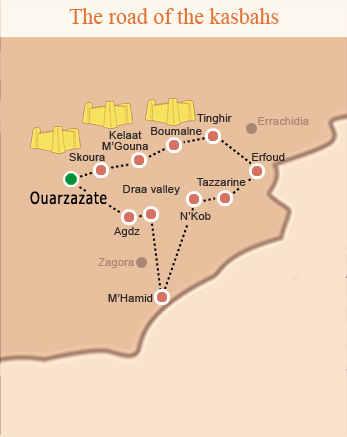 In the Deep South, Ouarzazate is one of the best points of departure to discover
the kasbahs. These citadels constructed from rammed earth (unbaked), which
are both simple and sumptuously decorated with geometrical designs,
are representative of the Berber culture. The circuit, for which an all-terrain
vehicle is recommended, will immediately thrust you into the heart of your quest,
in Ouarzazate itself with the Taourirt kasbah, a veritable jewel and a UNESCO-listed World Heritage Site. Departing to the south-east, you will reach Agdz,
its citadel and fort. This hamlet opens onto the Draa valley, a magnificent oasis
with the desert all around, which extends over a narrow strip of nearly 200 km
in length, all the way to the town of MíHamid. You will have the opportunity
to discover other kasbahs, but also ksour (ksar, in the singular), fortified villages surrounded by high walls.

Towards the Dades valley The road of the kasbahs.
Heading north, you will arrive in NíKob, its 52 kasbahs and its palm grove.
Further east, Erfoud, the date capital with its right-angled streets. Heading west (and from Ouarzazate), you will arrive in Tinghir, overlooked by an impressive kasbah. Tinghir is the ideal departure point to visit the Todra gorges whose impressive walls can be up to 300 m in height. As you continue along your route, you will reach Boulmane and its Tizzarouine kasbah, at the crossroads of the gorges and the Dades valley, also known as the "valley of 1000 kasbahs".

In the valley of Roses.
Further on, you will find the fortified village of Kelaat MíGouna, where the valley takes the name valley of the roses. It is an area reputed for the production of rose water, a very fashionable beauty product, and also used for medicinal purposes. A few kilometres further, Skoura has a palm grove overlooked by kasbahs, all of which are magnificentÖ Finally, just before arriving back at Ouarzazate, the Ait Ben Haddou kasbah, its ksar and contiguous villages will make a wonderful end to your amazing voyage.