The imperial Cities.
From Marrakech to Beni Mellal via Casablanca and Fes, eight major cities line this circuit. You will require at least eight days and seven nights to completely discover these historical cities.

Start by the red city Ménara, Marrakesh.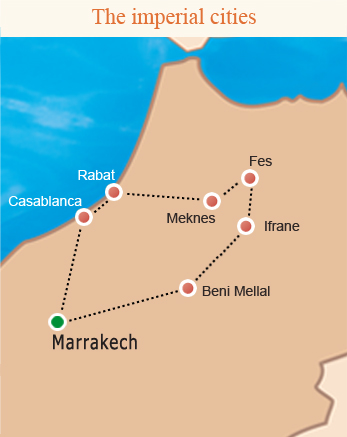 In Marrakech, some places are an absolute must, such as the famous
Jema El Fna square, which is magical at sunset, the Koutoubia minaret,
the Ben Youssef medersa, the Menara or the Majorelle garden… All along
the route, starting from this southern city up to Casablanca on the Atlantic coast, you will marvel at the diversity of landscapes.
On the Atlantic Coast The imperial Cities.
In Casablanca, a city that is profoundly influenced by modern architecture,
you will benefit from a colourful programme, which goes from a simple meal
on the coast road to a visit of the Art-Deco quarter and the Hassan II mosque,
not forgetting a dive into the old medina… Still on the Atlantic coast, Rabat,
the capital, is filled with emblematic monuments such as the Hassan Tower,
the Mohammed V mausoleum, the kasbah of the Oudayas and the necropolis
of Chellah.

Back inland.
From Rabat, head east! You are on your way to Meknès, then Fès,
which is close by. You cannot escape visiting the must-see city of Moulay Idriss, founder of the first Arabic dynasty that reigned over the country,
and his mausoleum. You will also pay a visit to the impressive historic
site of Volubilis, dating back to ancient Rome and a UNESCO World Heritage
Site. In this Middle Atlas region, you are on the way to Ifrane, where you can take advantage of the cool mountain air. Founded in 1929, this pretty town has its surprising chalets nestled in green surroundings at the heart of a cedar forest that is several centuries old and dotted with lakes.

And back Again.
On your way back to Marrakech, almost half way, Beni Mellal and its immense olive grove, located in the central High Atlas, precedes one last refreshing stop at the magnificent Ouzoud waterfalls.