A multitude of excursions await you in southern Morocco !

Is your goal to explore as much of Morocco's stunning scenery as possible? Ouarzazate, Zagora and Tinghir are the perfect
starting points
for organized tours.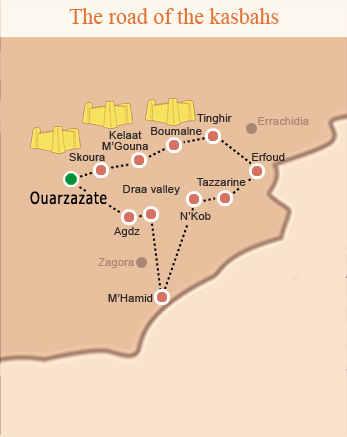 Set out with a guide to discover the deep south with excursions in a 4x4 or ATV along
the "Road of 1,000 Kasbahs" or through the Dades and Draa valleys. Are you a thrill seeker?

TheTodra Gorge and the sand dunes at Tinfou
or Chgaga are also calling your name. In addition to these singular landscapes, each stage of your journey is a chance to meet and talk with the people who live here.

Head out to conquer the Road of the Kasbahs. Look around you to take in the palm groves and rose gardens that extend as far as the eye can see. This road is punctuated by a number of typical citadels that are striking in their authenticity. For an immersive experience, you can even camp at a bivouac in the dunes! Don't forget to buy a few souvenirs for your friends and family.

And remember: the locals will be delighted to talk with you and let you in on their daily lives. Come visit the Ouarzazate region for an adrenaline boost!