Morocco's imperial cities are rich in history, ancient monuments and the heritage of its glorious past dynasties. Set out on a seven-day tour and acquaint yourself with all their charms and mysteries.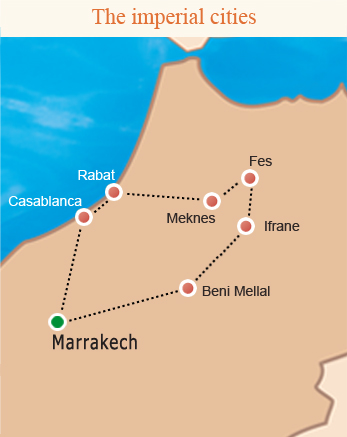 The stages of this itinerary will introduce
you to four of the most beautiful cities
in Morocco. As soon as you arrive in Marrakesh,
set out straightaway to explore the "Red City". You will visit its architectural treasures, including the Koutoubia mosque and Saadian tomb. A stop in the famous medina will expose you to the local customs and handiwork.

Your next stop is Rabat, the hospitable capital
on the ocean. Stroll down wide, open boulevards lined with palm trees and admire the Mohamed V Mausoleum and Hassan Tower, which is almost
a thousand years old.

Fez and Meknes round out your itinerary. Both cities are famously picturesque and unique in their own ways. Fez is the spiritual capital of the kingdom with a venerable, mysterious medina that is now listed as a UNESCO World Heritage site. Meknes symbolizes the power of Sultan Moulay Ismail with an enchanting setting epitomized by the Bab-El-Mansour Gate.

These four cities are your destinations, but the journeys in between also hold
a few surprises. After all, the Moroccan hinterland abounds in treasures. For example,
you can see the ruins of the ancient Roman city of Volubilis near Fez and Meknes
and "Little Switzerland" in Ifrane. Finally, you will experience Casablanca, whose
charm and history await you just a short distance from Rabat and Marrakesh.

Go on an expedition and spend a week admiring Morocco. As you experience its authenticity and tradition, you will appreciate its rich, varied history and the many surprises it holds for you.