Treat yourself to the Morocco Grand Tour! Spend two weeks traveling in Morocco
and discovering the essence of the kingdom. North or south: choose your starting
point and give yourself the time to take a closer look at all the country's treasures.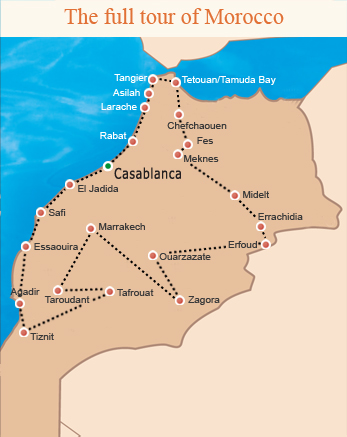 Morocco is a land of contrasts, between nature and culture and between the varied terrain of the sea, the desert and the mountains. Go to Marrakesh
and revel in the "Red City", the Koutoubia gardens and the renowned, festive Jemaa El Fna Square. From there, set your sights on Fez or Meknes, but donít overlook the great sites along the way: Azilal, Beni Mellal, the Ouzoud waterfalls, Lake Bin El Ouidane and Ifrane, known as "Little Switzerland" because of its architecture and cedar forest. Enjoy the imperial cities by walking through the Fez medina and passing through Bab Mansour Gate in Meknes. Then tour the famous ruins at Volubilis just a few miles away.

Now drive towards the Mediterranean to sample Tangier, the "White City"; Tetouan,
a dove on the seaside; and the colorful, picturesque town of Chefchaouen nestled between two mountains. You will gradually start working your way south. Rabat and its gardens make for a beautiful stop: tour the Kasbah of the Udayas and the centuries-old Hassan Tower. The dynamic energy of Casablanca still lies ahead, as do the scenic towns of El Jadida and Essaouira. As you near the southernmost point on your trip, you are rewarded with Agadir and its bay, as well as some of the most gorgeous backcountry in the kingdom. From here, turn east to Ouarzazate and its famous kasbahs and to Merzouga,
a gateway to the immensity of the desert.

Each day brings its share of surprises, from gourmet meals to local festivals and Moroccan crafts. You will come to know all the customs and traditions of a country that never ceases to amaze.

The Morocco Grand Tour is a cultural immersion that will help you understand the country by exploring all geographic, historic and demographic facets.