Morocco is a country in North Africa, which combines a multitude of different cultural influences into one unique blend.
On a holiday to Morocco you will have the chance to explore a multitude of different experiences, from bustling markets
to idyllic beaches. Morocco boasts a large number of international airports, most notably those at Rabat, Marrakech, Casablanca and Tangier. Flights from the UK to Morocco will take somewhere in the region of 3 hours.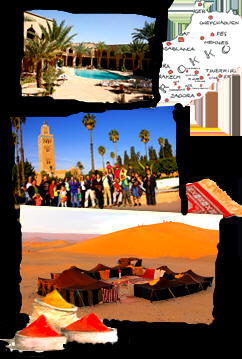 Few countries hold as much dreamy fascination for travelers as the beautiful country
of Morocco. Desert fortresses rise out of the sands of the Sahara. Sapphire oceans caress white sandy beaches. The purple peaks of the Atlas Mountains glitter with snow. Visit Morocco to see all of these sights and more. Behind every city wall is an adventure in art, architecture and cuisine. The winding alleyways of the Medina give way to the bustling souks, tent after tent filled with brightly colored silks and baskets of spices. At the hammam, you can indulge
in massages perfumed with scented oils and salt scrubs.

Geographically, Morocco is made up of four different areas: the Sahara desert,
full of Berber towns and oases; the Atlas and Rif Mountains, perfect for hikers; the plains which are home to the imperial cities of Marrakesh and Fez; and finally the sandy coastlines of the Mediterranean Sea and the Atlantic Ocean, graced by small beach towns and the cities of Rabat and Casablanca. Endless possibilities await the adventurous traveler, so delve into Travel + Leisure's Morocco travel guide to plan your ideal trip.

Things Not to Miss in Morocco
• Sun tanning and windsurfing in Essaouira
• Shopping the souk in the medieval city of Fez
• Visiting a hammam in Marrakesh
• Ride a camel on the golden sand dunes of Erg Chebbi
• Stroll along the blue walls of Chefchaouen

When to Go to Morocco
Due to the varied geography, the best time to travel Morocco depends greatly on where
you are going. In general, spring (April and May) is the best weather across Morocco.
In the Saharan region--and to a lesser extent the plains cities--midsummer should be avoided. However, the hottest months are lovely for a visit to the coastal cities, like Essaouira and Rabat. Winter months
are very cold in the mountains, which can be hard since many hotels don't have heating. Desert days are warm and clear during
the summer, but temperatures at night can plummet. It is also important to consider Islamic holidays when you travel to Morocco. The month of Ramadan involves strict fasting during the day, which can be a present an issue for transportation,
but the parties at night can make up for the subdued days.