Vip Tours offers private tours to Morocco VIP Tailor that are organized and with high quality services to live a luxurious as you always dreamed. our personalized tours are accompanied with drivers / Experienced local guides in the languages of customers and perfect knowledge of Moroccan téritoire to discover our cultural and architectural heritage of this great country. We invite you to visit our 3,000 kilometres of coastal Atlantic & Mediterranean, the most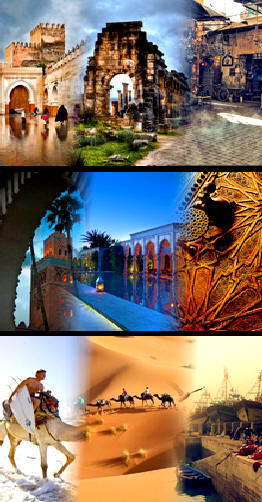 important cities visited realm as Fez, Marrakesh, Rabat, Casablanca, Agadir, Merzouga, Ouarzazate, Zagora and Essaouira ... fascinating mountain ranges of the Atlas and the magic of our great desert of Sahara ... etc!

Services of our private luxury tours VIP:
Comfortable private transportation.
Hotel 4 * / 5 * or luxury Riad rank well.
Bivouac private luxury in the wilderness comes with a camel trip.
Well-classified restaurants.
Local guides in the imperial cities.

Morocco Holidays
Morocco is situated at a crossroads between East and West, North and South.
The country takes its influences from a wide range of cultures; African, European, Mediterranean, Arabic and Oriental flavours combine to make this a destination quite unlike any other. You will find the same curious blend apparent in every facet of your holiday to Morocco, from the food and music, to the striking architecture that lines the streets.

Some of the more popular destinations on a holiday in Morocco include the cities
of Rabat, Casablanca, Marrakech, Tangier and Fez. Each has its own distinct
flavour however, meaning that no two holidays to Morocco are going to be the
same experience. Many of the coastal cities also boast fantastic beaches, and water sports are a regular attraction on holidays to Morocco. Lovers of culture will be delighted by the wide array of museums, galleries and striking architecture that are on offer across this unique country; and with a history that has featured occupation by civilizations as diverse as the Romans, Phoenicians, Carthaginians, Jews and Arabs, you will have the chance to admire a broad range of complimentary styles and influences.

This same unique blend is apparent in Moroccan cuisine, which uses a diverse range of ingredients, including rich spices, Mediterranean fruits and fresh red meats. Should you travel to Marrakech during your holiday in Morocco, be sure to visit the breathtaking market at Djemaa El Fna to experience Moroccan cuisine at its finest. During the day this bustling market place
is filled with a heady blend of fakirs, snake charmers and market stalls, but at night, it really comes to life as the food stalls open for business; you'll have the chance to try hot stewed tagines, crisp salads, sweet pastries and curious delicacies,
such as deep fried eel.