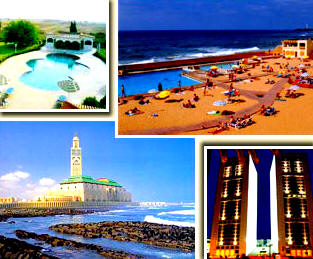 Casablanca
Casablanca is by far Morocco's largest city and the economic and financial capital
of the country. With 5.5million inhabitants, this amazing metropolis is the country's
first business centre, first port and first university centre. 'Dar el-Beïda' (meaning 'white house' – Casa Blanca in Spanish) is a city where skyscrapers stand in absolute contrast
to the small shops of the medina, a city where tradition and modernity co-exist.

Hassan II Mosque
Casablanca's most impressive highlight is the Hassan II Mosque, which can be seen from almost any point in the city. With a prayer hall that can accommodate 25.000 people at once, it is the second-largest religious building in the world after the mosque in Mecca. The complex covers 9 hectares (968.774 sq ft), two-third of it being built over the sea. The minaret, the lighthouse of Islam, is 200m (656 ft) high, and two laser beams reaching over a distance of 30km (18.5 miles) shine in the direction of Mecca.
The building was designed by Michel Pinseau, 63.000 craftsmen worked on it, and it opened and 1993. With carved stucco,
zellij tile work, a painted cedar ceiling and marble, onyx and travertine cladding, it is a monument to Moroccan architectural virtuosity. The Hassan II Mosque is the only mosque in Morocco that can be visited on the inside by non-Muslims and for touristic purposes.

Old Medina and United Nations Square
At the beginning of the 20th century, Casablanca consisted only of the old medina, which today still contains 2 of the former 4 gates,
a fortified bastion and the marabout (shrine) with the Tomb of Sidi Allal El-Kairouani, Casablanca's first patron saint in 1350.
In a labyrinth of small alleys and limed houses, you find a daily market with jewellers, handicraft shops, a food market and counterfeit clothing and bags.On the Southside of the old Medina is the United Nations Square, built in 1920 by Joseph Marrast and formerly known as 'La Place de France'. At the beginning of the 20th century no more than a market square, today it links the old and the new town with its tramway, banks, hotels, souvenir shops and brewery terraces.

Mohammed V Square
The Mohammed V Square is the location of the Prefecture, 'Palais de Justice' (governor's house), the central post office,
the French Consulate, banks and cultural organizations. The buildings, the park and the fountain show scenery of monumental
French architecture combined with the Moorish sobriety.

Corniche - Ain Diab
Frequented night and day by the Casablanca people and the tourists, the Corniche of Ain Diab is a promenade on the seaside
of Casablanca, where swimming pools, hotels, restaurants and fashionable nightclubs succeed each other. At the western
end of Ain Diab's beach is the Marabout of Sidi Aberrahman, only accessible at low tide and considered sacred by Muslim pilgrims.

Habous (New Medina)
In the 1930s French town planners laid out a new medina in order to address the problem of an expanding urban population
and to prevent underprivileged citizens from being forced to settle in insalubrious quarters. This town was built in the traditional
Arab style and at the same time obeying modern town planning and public health regulations. It contains many small shops
with handicraft objects, flower-filled and arcaded streets and a former tribunal. On the fringes of the Habous quarter
is the Royal Palace with its extensive Mediterranean gardens.

Anfa
Occupying a hill that overlooks Casablanca from the Northwest, Anfa is a residential quarter with wide flower-lined avenues where luxurious homes with terraces, swimming pools and lush gardens bring to mind Beverly Hills. Since the 1930s, villas in a great variety of styles have been built here, and they constitute a catalogue of successive architectural styles and fashions.

Rick's Café
Between Casablanca's port and the North side of the old Medina, is the world-famous Rick's Café. Known as the scenery
of the 1924 movie 'Casablanca', it is today an excellent restaurant that attracts curious travellers from all over the world
who wish to experience the mythic ambiance of 'Casablanca'.
http://www.rickscafe.ma/

Shopping

Twin Center:
Dominated by its two towers, which rise to a height of 100m (328 ft), this extensive complex is proof and symbol of the city's economic importance. Built by Ricardo Bofill and Elie Mouyal, 1 tower contains a hotel, the other offices, shopping malls and a conference centre. By its outward appearance no less than in its infrastructure the building signals the economic role that Casablanca plays on both
the national and international stage.

Morocco Mall:
At the western end of Ain Diab's beach Morocco Mall opened its doors in 2011, one of Africa's biggest shopping mall with
over 600 brands operating in various activities, international cuisines and an amazing garden with musical fountains.
http://www.moroccomall.net/home

Anfa Place:
Located at the Corniche Boulevard at the AnfaPlace Living Resort, the Anfaplace Shopping Center is the new mall of reference
in Casablanca that opened its doors in February 2013.
http://www.anfaplace.com/proyecto_eng.html

Weather:
Winter temperature = 5 - 15°C. Summer temperature = 20 – 30°C.
November – February some rainy weeks. High humidity level. Up to 10 hours sun per day.

Festivals:
Jazzablanca April
Official website of the festival:
http://www.jazzablanca.com/