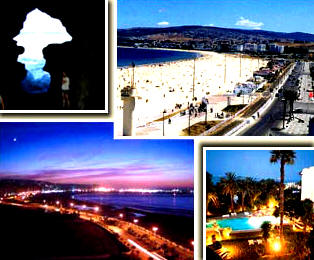 Tangier
The history of Tangier has been shaped by the sea and by its strategic location on the Straits of Gibraltar. Since the 14th century Tangier has been captured by the Portuguese, the Spanish, the English, the Alaouïtes and the French before being returned to Morocco after the independence in 1956. Its location and history make that Tangier has a special character that sets it apart from the other Moroccan cities. It has drawn artists and writers – Henri Matisse, Paul Bowles – and thanks to its port Tangier is Europe's door into Africa.

Kasbah
This fortified citadel dating from the twelfth century is built inside the Medina, on the heights of Tangier, overlooking the rest of the city. Inside, there are prestigious residences that have preserved all their glory. Dar el Makhzen, a former sultan's palace dating from 1648, today houses a museum of Moroccan crafts and antiquities. The Kasbah Mosque has an unusual octagonal minaret with coloured tiles which present form dates from the 19th century. With its quiet streets and friendly inhabitants, the Kasbah has a special character and its walls and gates command stunning
views over the strait, the bay and the city.

Grand Socco
The link between the Medina and the Ville Nouvelle (New Town) is the Grand Socco Square, which was renamed 'Place du 9 Avril 1947' in memory of the speech that Mohammed V made in support of the independence. The square comes alive in the evenings, when vendors spread out their wares on the ground and a colourful market takes place just above the square. The minaret of the
Sidi Bou Abib Mosque (1917), decorated with polychrome tiles, overlooks the square from the southwest.

Café Hafa
The Café Hafa opened in 1920, and neither the furniture nor the décor seem to have changed since then. Located on the edge
of a cliff facing the Atlantic Ocean, it offers a breathtaking view of the strait. An ideal place for mint tea, coffee or a smoke,
lots of writers and singers have come here: William Burroughs, Sean Connery, Paul Bowles, The Beatles and The Rolling Stones.

Place de France & Place de Faro
Place de France is a major meeting place for the inhabitants of Tangier. The Café de Paris, which opened in 1920, was the first establishment to open outside the Medina. Once Tangier's most fashionable café, Paul Bowles, Tennessee Williams and Jean Genet were among its regular customers, as well as foreign diplomats. Today it remains a hub of city life. Very near Place de France is Place de Faro (named after the Portuguese town twinned with Tangier in 1984), complete with cannons. It offers a view of the Medina and of ferry traffic in the harbour and the strait of Gibraltar.

Hercules Caves
We find 'Les Grottes d'Hercules' (Hercules Caves) about 10 km (6miles) West of Tangier. At the place known as Achakar, the sea has carved impressive caves out of the cliff. According to legend, Hercules slept here before performing one of his 12 labours. The entrance to the caves, facing onto the sea, is a cleft shaped resembling the map of Africa. Further south, beneath the level of the caves, are 'the Ruins of Cotta' (1st century BC to 3rd AD). With vats for salting fish, making garum and producing purple dye, this was one of the largest industrial centres of the Punic-Mauritanian period.

Cape Spartel
Close to Hercules Caves, on the most north-westerly point of Africa, stands a lighthouse at the cape. It was built in 1864
on Cape Spartel to prevent the many shipwrecks that occurred in the rough waters of the ocean. From beneath the lighthouse,
there is a breathtaking view where the Mediterranean Sea and the Atlantic Ocean meet. On clear days you can see the strait
and coast of Spain from Cape Trafalgar to the rock of Gibraltar.

Beaches
The bay of Tangier is a grand crescent that stretches for almost 4km (2.5miles). Due to the closeness to the city and the pollution,
the beaches on the East and Westside of Tangier are better fit for swimming and sunbathing. On the Westside we find beautiful beaches between Cape Spartel and Hercules Caves and East to Tangier there are the coves of Cap Malabata, the beaches at Sidi Khankroucht and Ksar es-Seghir. The beach at Mrissa, 'plage des Amiraux' and Wadi Aliane are also worthwhile.

Weather:
Winter temperature = 8 - 18°C Summer temperature = 20 – 30°C
Mediterranean climate with rainy winters and high humidity level throughout the year

Festivals:
Festivals Tanjazz septembre.
Official website of the festival: