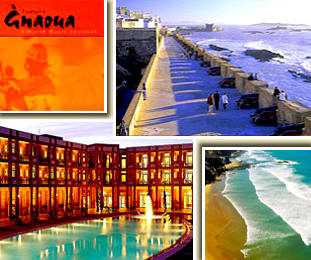 Essaouira
In the 7th century BC, the Phoenicians founded a base on the site where Essaouira
now stands, and in the 1st century BC Juba II made it a centre of manufacture
of purple dye. The Portuguese established a trading and military bridgehead here
in the 15th century, and named it Mogador. The town itself however was not built until around 1760, by the Alaouite sultan Sidi Mohammed Ben Abdallah (Mohammed III), who had decided to set up a naval base here. The town, the harbour and fortifications, in the style of European fortresses, were designed and built by Théodore Cornut, a renowned French architect who had worked for Louis XV. Today, with the brilliant whiteness of its lime-washed walls, the city is a typical Moroccan town and one of the most enchanting places in the country. By virtue of its location on this stretch of the Atlantic coast, where trade winds prevail almost all year round, the town enjoys a particularly pleasant climate. It is a prime location for windsurfing, but has managed to escape mass tourism. A Mecca for hippies during the 1970's, it is still an artists' town and is very fashionable with independent travellers.

Port
The 'Porte de la Marine' leading to the docks, is crowned by a classical triangular pediment and dominated by two imposing towers flanked by four turrets. The rectangular 'Sqala du Port' is surmounted by battlements. From the 18th century, 40% of Atlantic sea traffic passed through Essaouira. It became known as the 'Port of Timbuktu', being the destination of caravans from sub-Saharan Africa bringing goods for export to Europe. Once one of Morocco's largest sardine ports, Essaouira now provides a living for no more than 600 families. But it still has its traditional shipyard, where vessels are made out of wood. Visitors can also watch the fish auction and sample freshly grilled sardines.

Sqalas
Two sqalas (sea bastions) were built to protect the town: the Sqala de la Ville in the northwest, and the Sqala du Port in the south.
The Sqala de la Ville consists of a crenellated platform featuring a row of Spanish cannons and defended at its northern end the North Bastion. This was built by Théodore Cornut on the site of Castello Real, a citadel constructed by the Portuguese around 1505. The esplanade (where scenes from Orson Welles' film Othello were shot in 1949) commands a view of the ocean and the Îles Purpuraires. A covered passage leads from the bastion to the former munitions stores, which now house marquetry workshops.

Medina
As elsewhere in Morocco, the Medina in Essaouria is a labyrinth of narrow streets. The town itself, by contrast, has straight wide streets laid out at right angles to one another and cut by gateways. The huge market, the Souk Jdid, is divided into four by intersection of two thoroughfares. There is a daily souk for fish, spices and grains, and a souk for second-hand and collectable items, known as joutia.

Weather:
Winter temperature = Average 15 °C Summer temperature = Average 20 °C.
Windy coastal climate with high humidity level throughout the year

Festivals:
Gnaoua and Wold Music Festival June 12-15 2014
Official website of the festival:
http://www.festival-gnaoua.net/en/