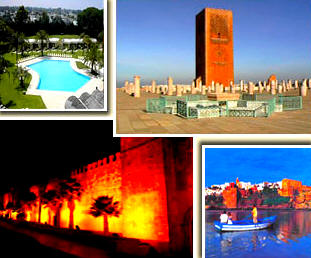 Rabat
Rabat is an attractive city of domes and minarets, sweeping terraces, wide avenues
and green spaces. It is markedly more pleasant than some other Moroccan cities and is also undergoing fundamental change. Facing Salé, its ancient rival, across Wadi Bou Regreg, Rabat was made Morocco's political and administrative capital in 1912 by Marshal Lyautey. Today also the country's financial capital, it is the main university town and the second-largest metropolis after Casablanca.

Oudaya Kasbah
The Kasbah takes its name from the Oudayas, an Arab tribe with a warrior past that was settled here by Moulay Ismaïl (1672-1727) to protect the city from the threat
of rebel tribes. Part of the city walls that surround this "fortress", built on the top
of a cliff, date from the Almohad period (1147-1248). The city walls surrounding the Kasbah were built in 1195 by Yacoub el mansour after his victory over Alfonso III. Sights to visit in and around the Kasbah: Bab Oudaya, the El Atika mosque, Café Maure and the Andalusian Garden.

Mohammed V Mausoleum
Raised in memory of Mohammed V, the father of Moroccan independence, this majestic building was commissioned by his son,
Hassan II. It was designed by the Vietnamese architect Vo Toan and built with the help of 400 Moroccan craftsmen. The group
of buildings that make up the mausoleum of Mohammed V include a mosque and a museum devoted to the history of the Alaouite dynasty. The mausoleum itself, in white Italian marble, stands on a platform 3.5m (11.5ft) high. Entry is through a wrought-iron
door that opens onto a stairway leading to the dome beneath which lies the sarcophagus of Mohammed V.

Hassan Tower
Overlooking Wadi Bou Regreg from the hill it stands on since more than eight centuries, the Hassan Tower is one of the city's most prestigious monuments and a great emblem of Rabat. It is the unfinished minaret of the Hassan mosque, built by Yacoub el Mansour around 1196. After his death in 1199, the unfinished mosque fell into disrepair and 1755 an earthquake destroyed everything
but the mosque's minaret. Today's remains still show the intended grandeur of the mosque. It was to have surpassed the height
of the Koutoubia Mosque in Marrakesh and the Giralda in Seville, but it was never completed. It was from the Hassan Tower that Mohammed V conducted the first Friday prayers after independence was declared 18th of November 1956.

Dar el Makhzen & Mechouar
An extensive complex enclosed within its own walls, the Dar el Makhzen (Royal Palace) is inhabited by about 2000 people. Built
on the site of an 18th century royal residence, the current palace was completed in 1864, but was constantly enlarged thereafter.
The palace now houses the offices of Moroccan government, the Supreme Court, the Prime Minister's offices, the Ministry of Habous (responsible for religious organizations), an extensive garden and the El Fas Mosque. The Mechouar, a place of public assembly,
is the venue for major gatherings. Traditionally the king would reside in the former harem, but King Mohammed VI stays in his own private residence.

Weather:
Winter temperature = 8 - 18°C Summer temperature = 15 – 30°C.
Mild, rainy winters and hot summers with high humidity level

Festivals:
Mawazine Festival Rhythms of the World MAY.
Official website of the festival:
http://www.festivalmawazine.ma/