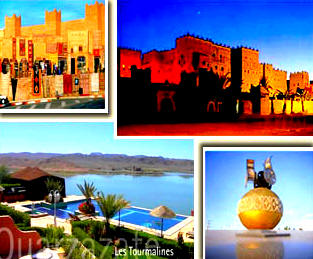 Ouarzazate
Former garrison town of the French Foreign Legion, Ouarzazate was founded in 1928, having been chosen by the French as a strategic base from which to pacify the South. Located at an altitude of 1160m (3807ft) at the intersection of the Draa Valley
and the Dadès Valley and with the Agadir region to the West, it is on the main route between the mountains and the desert. Ouarzazate is a peaceful provincial town
with wide streets, many hotels and municipal gardens.

Taourirt Kasbah
Ouarzazate's only historic building, the Taourirt Kasbah, stands as a monument to the large Glaoui family it once housed. At the beginning of the 20th century the Glaouia family was the lord of the South and controlled access to the High Atlas. They were the first to collaborate with the French in the expansion to the latter's rule in the South. Begun in the 18th century and renovated in the 19th, the Taourirt Kasbah has been undergoing restoration since 1994. Next to the Kasbah is a former Berber village, which probably predates the Kasbah. The ksar (fortified village) with its narrow winding streets is inhabited by a busy population. The crafts centre opposite the Taourirt Kasbah offers carpets, stone carving, jewellery and pottery.

Atlas Film Studios
About 10 km (6miles) northwest to Ouarzazate, on the road to Marrakesh, are the Atlas Film Studios. Surrounded by high clay walls, the studios cover about 30.000m² (322920 sq ft) of desert and provide the livelihood of a considerable portion of the population
of Ouarzazate. Over the last century many films have been shot in this region, including Bernardo Bertolucci's The Sheltering Sky, Martin Scortese's Kundun, Lawrence of Arabia, Babel, Gladiator and more. On the other side of the town, opposite the Taourirt Kasbah, are the Andromeda Italian Film Studios.

Kasbah Aït Benhaddou
About 30km (19miles) northwest of Ouarzazate, we find the Kasbah of Aït Benhaddou onto a pinkish sandstone hill. The picturesque village of Aït Benhaddou contains an impressive group of ochre clay kasbahs and has often been used as a film location. Since it was made a UNESCO World Heritage Site, some of its kasbahs have undergone restoration to their upper section. Today the Kasbah
is inhabited by less than ten families.

Kasbah Tifoultout
We find the majestic Kasbah Tifoultout about 7km (4miles) northwest of Ouarzazate. Built of clay walls, the building was made
on the orders of Pacha Glaoui in the 17th century. It was converted into a hotel in the 1960s to provide accommodation during
the shooting of David Lean's Lawrence of Arabia. Offering great views from its terrace, it is now a restaurant and hostel.

Skoura – 40km (25miles) from Ouarzazate
The small town of Skoura is surrounded by an impressive palm grove, which was laid out in the 12th century by Almohad sultan Yacoub El Mansour. Some of the kasbahs are still partially inhabited and some are attached to private houses, but most inhabitants however, have moved into the breeze-bock villages that line the roads of Skoura.

The most beautiful kasbahs in southern Morocco are to be found here:
Ben Morro Kasbah – built in the 17th century and converted into a guesthouse after being completely restored
Amerdil Kasbah – once owned by the Glaoui family it dominates the wadi (oued), the interior has been restored and it is now
open to visitors Aït Abou – the oldest kasbah in the palm grove (1863) has 6 storeys with 25m (82ft) high walls and an amazing fruit orchard. Its outbuildings have been turned into a small B&B. More Kasbahs: Aît Sidi El mati, Aït Souss, El Kebbaba and Dar Aïchil.

Environs of Ouarzazate
Draa Valley – 200km (124 miles) between Ouarzazate and Zagora
Zagora – about 170 km (105 miles) southeast to Ouarzazate
Tamegroute – 20km (13miles): ksar Tamegroute fortified village with historical library
El Kelaa M'Gouna – halfway between Ouarzazate and Tinghir. Yearly rose festival in May

Weather:
Winter temperature = 5 - 20 °C. Summer temperature = 25 - 38 °C.
Hot desert climate with few rain throughout the year.

Festivals:
Rose Festival – Kelaa M'Gouna 90km (56miles) from Ouarzazate May.