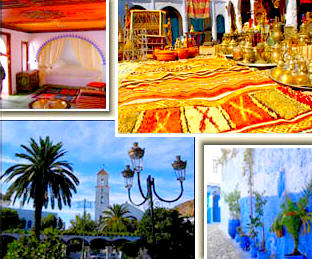 CHEFCHAOUEN
The white town of Chefchaouen nestles in the hollow of the two mountains Ech-Chaoua (The Horns), from which it takes its name. Steep narrow streets with white and indigo limewashed buildings, small squares, ornate fountains and houses with elaborately decorated doorways and red tile roofs make this a delightful town. It was founded
in 1471 by Idrissid shorfa, descendants of the prophet Mohammed, as a stronghold
in the fight against the Portuguese. With its 8 mosques and several zaouias
and marabouts, Chefchaouen is considered a holy town.

Ras el Ma
Beyond the Bab el Ansar gateway, is the well of Ras el Ma (water head), which is now enclosed by a building. Accounting for the town's lush gardens and powering the mills, the presence of the underground spring was the main reason for the establishment
of the town at this location. With its cascades, wash-houses, mills and cafés,
Ras el Ma is considered to be one of Chefchaouen's most pleasant quarters.

Uta el Hammam square and the Grand Mosque
The square is the heart of the old town and the focal point on which all the streets of the medina converge. It is lined with trees, paved with stones and pebbles, and in the centre stands a four-sided fountain decorated with arches and crowned by a pavilion
of green tiles. With shops and cafés, this is an ideal place for a relaxed stroll. The Grand Mosque at the square is distinctive for being octagonal and for its decoration with zellij tilework tiers and ochre background. Probably founded in the 16th century, it has been remodelled several times since.

Kasbah and Ethnographic museum
Built between the 15th and 17th century in an Andalusian style with ten bastions and walls of red beaten earth, the Kasbah
is the essential heart of the town. The Ethnographic museum, occupying the residence built in the garden, contains displays
of pottery, armour, embroidery, costume, musical instruments, palanquins and painted wooden chests.

Fondouk
Chefchaouen's Fondouk still serves its original purpose; around 50 rooms, arranged around the courtyard, accommodate travellers and passing traders. The building's strikingly simple design is in remarkable contrast to its the main entrance door, which is surmounted by an awning and framed with interlacing horse shoe arches.

Medina
The Souïka (little market) is the oldest district of Chefchaouen and has the town's finest houses with carved and decorated doors.
The narrow streets contain many small shops and more than 100 weavers' workshops. Indeed the town is famous for the woollen jellabas that are woven here, as well as the red and white striped fabrics worn by the women of the Jebala, a tribe of the western Rif.

Weather
Winter temperature = 8 - 18°C. Summer = 20 – 35°C.
Dry and sunny climate. Big night/day temperature difference.